1.Click [System Settings] on the lower left of the operation screen. In the [Administrator] tab, click [Assign].

2.Enter the email address of the user to assign as an administrator in the [Email Address] field, and then click [Assign].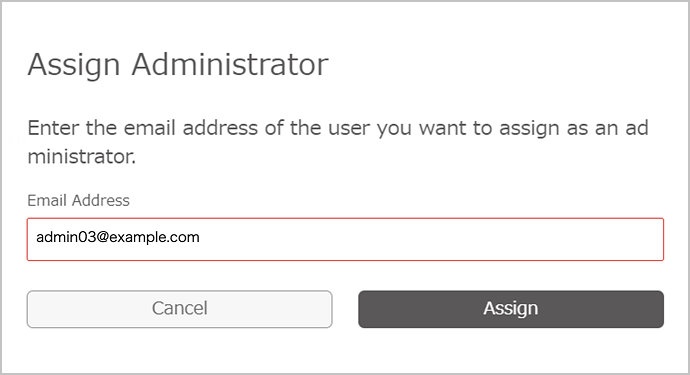 Click [Cancel] to cancel the administrator assignment

Only registered users can be assigned as administrators. If a user is not registered, they will first need to be registered before being set as an administrator.
3.Click [OK].


<Common error messages (when assigning administrator permissions)>
If the timing of operations on the same target (user) overlaps between different administrator users (if the operations conflict), the process started later will cause an error.
| | | |
| --- | --- | --- |
| Situation | Error message | Solution |
| The user has already been assigned as an administrator by another administrator | | Click [Cancel] and check the assignment status. |
| The value entered is not in email address format | | Enter it again in email address format. |
| The value entered is not a Mirai Translator user (not registered in the user management screen) | | Register the user in the user management screen, and then try assigning the user again. |
| The number of registered administrators has reached the maximum (10 users) and the user cannot be assigned | | Click [Cancel] and check the assignment status on the [Administrator] screen. |
| There was conflict with an operation performed by another administrator user, preventing registration | | Click [OK], wait a while, and then try again. |